2,300+ 5-star reviews
Cool & Breathable Sleep
This luxurious weighted blanket molds to your body like a gentle hug. Exclusively 100% cool cotton — zero polyester or synthetics — for the best breathable sleep; quality guaranteed.
"committed to luxury & being eco-friendly"
"Relief without the Rx"
"...feel a bit more calm and collected"
"Best weighted blanket for hot sleepers"
"blends nicely with my minimalistic decor"
What Are Weighted Blankets?
A weighted blanket molds to your body like a gentle hug. The pressure relaxes the nervous system and encourages serotonin production, which lifts your mood. When serotonin naturally converts to melatonin, your body takes the cue to rest. This means a calmer mind and deeper sleep for a healthier life. 
What Makes Baloo Different
Baloo is the eco-friendly, luxury weighted blanket made with lead-free glass microbeads and materials certified to be free of harmful chemicals. 
This means our products are clean and safe, made with soft, premium cotton that's cool and breathable for year-round use. 

Happy Sleepers Say
I have struggled with sleep for the past 20 years, and it had gotten to the point where I was sleeping only four hours at a time. The first night I slept with this blanket, I slept like a baby for 8 hours straight! I love how it makes me feel! The only problem is now I never want to sleep without it. The cotton is soft, it's not too hot, and just packaged beautifully. 

CKD
I have major insomnia and slept with my blanket the first night I got it and I was out like a log. I literally didn't feel my body move and I could feel the blanket calming my nervous system. I cannot live without this thing! It's a game changer for sleep and PTSD. 

Mona M., CA
This blanket is amazing! It's soft, really well constructed, and actually helped me sleep better! I'm a pediatric occupational therapist and frequently recommend weighted blankets to patients, and have always wanted one for myself. It's really calming to sleep with or use on the couch. I highly recommend this blanket!

Amanda B., CO
I got this blanket for my anxiety (currently on anti-anxiety medication, it's pretty severe)...and I have to say, the blanket is just so wonderful! So glad I discovered this: It's like a hug you can get anytime. Calms me down and grounds me almost instantly. 

Anel S., CA
If you are struggling to sleep try this product. Somehow they made the blanket so you don't overheat - it is the middle of the summer here in central Texas and I didn't notice any extra warmth when compared to a standard blanket - AMAZING!!!

Courtney S., TX
I bought this blanket to help me sleep less fitfully. I'm hard pressed to explain it, but it gives a very comforting, womb like feeling. Once you are settled in, it is not heavy or hot, but more like a comfy cozy sleeping on a cloud might be. I feel the price is good for the quality. I bought the 15lb size. 

Susan K.
Fantastic product! I have been looking at weighted blankets for awhile now and decided to try the Baloo out. The fabric is very soft and it is beautifully made! I'm very impressed by the quality and even the classy packaging. I've slept soundly since I start using it. Even in the heat of summer, it's not too hot just a comfortable weight. 

Laura P., TX
My husband and I are VERY happy with our Baloo weighted blanket. I love how the blanket covers the footprint of our queen size bed and stays in place. My husband who kicks covers off (even a sheet) has kept this blanket covering him all night. So happy we got it! 

Anonymous
Love this blanket! I sleep so much better with this blanket compared to my old weighted blanket, because the materials breathe so much better. It even looks better to boot--the materials and texture make it look like it belongs on a bed. 

Jason, TX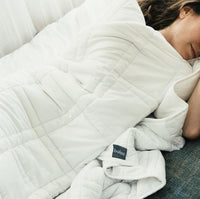 How Weighted Blankets Work
Weighted blankets are designed to apply a gentle, even weight to the body, simulating the effects of Deep Pressure Touch, or DPT. This has been shown to encourage restful sleep. The response is an all-natural, calming effect which soothes and supports deeper, sounder sleep.
These effects have been studied and published in the journal Occupational Therapy in Mental Health, the Journal of Complementary Medicine, and several others. 
Honouring Natural Health & Balance
Baloo is here to serve your natural health and balance. We believe we are all connected. That's why Baloo selects clean and safe chemical-free materials, gives for a healthier environment through carbon offsets, and supports children through the grassroots not-for-profit organisation Pajama Program.